Facilitator Certification
Facilitator Description (Qualifications)
Local Schools or other partner organizations may choose to use existing staff to be trained and certified as Facilitators. Facilitators are certified based upon levels of training, education, experience, performance evaluations and longevity. Facilitators are selected from local areas, recommended by school officials, partner organizations and community leaders and subject to a formal interview process. Background checks are conducted on all facilitators prior to hiring.
Our program facilitators are trained to be guides, who establish a true collaborative culture. They don't have answers; they have thoughtful, structured questions and activities. They combine the critical 21st century skills of teamwork, technology, critical thinking, innovative problem solving, and personal reflection in all discussions and activities.
Facilitators receive 4 days intensive training in the following subjects:
Role and responsibilities of a facilitator
Setting up a classroom
Curriculum delivery techniques
Classroom management
Crisis Intervention
Mediation techniques
Work rules
Reporting procedures and protocols
Written reports and forms
Case management requirements
Data collection
Use of the electronic data collection system
Upcoming Training
Contact us if you or your staff would like to become a certified facilitator.
Past Training
+ Click to view all past trainings
Facilitator Training - Click to view photos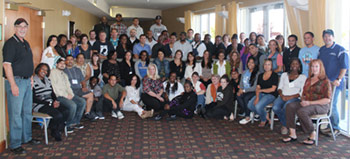 + Click for a slideshow
"Before this class…I did not really take school seriously because I was too busy doing a lot of bad stuff…out in the streets. I have learned that school is something you need and that it mostly controls where your life goes and so you should take advantage of it while you can." "My grades are getting better and I got to play basketball this year."—  Joseph